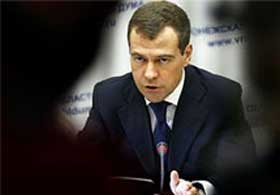 Russian President Dmitri Medvedev told representatives of the gold-mining industry to stop "whimpering" today, the RIA Novosti news agency reports. Speaking before a meeting on the development of the far north-eastern Magadan oblast, Medvedev addressed Yevgeny Ivanov, general director of Polyus Gold, Russia's largest gold producer.
"I understand that it is not easy for business to work, and that our bureaucratic mechanism is still difficult," Medvedev said, "but you don't need to whimper… This isn't like raising animals on poor soil. You know very well what is happening on the world gold market."
Medvedev went on to suggest the government could revoke Polyus Gold's license to mine gold in the region.
"If extracting gold is a marginal economy for you," he said, "you ought to abandon this line of work. We will find others. Shall we take away your license?"
Concurrently, the Russian president advised local authorities to pay close attention to the needs of business.
Shares of Polyus Gold did not react to Medvedev's statements, and its listing on the MICEX index had grown 1.22 percent as of 12:30 Moscow time, following the general market sentiment.
Previously, Medvedev has called on Russia's authorities and security services to stop "causing nightmares" for business. Medvedev was trying to calm Russian markets as they entered a free-fall when Prime Minister Vladimir Putin criticized Mechel, a coal-extracting company.
Polyus Gold is Russia's largest gold extractor. In 2007, the company's various units produced 37.8 tons, or roughly 1,214 thousand ounces of gold. Businessmen and billionaires Mikhail Prokhorov and Vladimir Potanin are the company's largest shareholders.