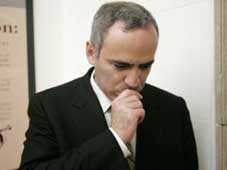 Writing for the Wall Street Journal, Russian opposition leader Garry Kasparov links the Russian stock market collapse to Prime Minister Vladimir Putin and President Dmitri Medvedev. "Until Russia has a government that is accountable to its citizens, no company or individual will be safe here," he writes.
—
Putin Is Ruining Russia's Economy
Sept. 19, 2008
By GARRY KASPAROV
Moscow
This week's global market catastrophe kicked the Russian economy when it was already down. On Wednesday trading was suspended for a day and a half. An unprecedented 1.126 trillion rubles (around $44 billion) has been allocated to rescue three major Russian banks. One, Gazprombank, is controlled by Yuri Kovalchuk, Vladimir Putin's closest partner.
The market's collapse, down 57% since May, is linked to the dysfunctional nature of the Russian state and economy. Nearly every aspect of commerce in Russia is deeply entangled with state power, if not with Mr. Putin personally. This, for obvious reasons, does not comfort most investors.
One famous investor in particular was worried about the security of doing business in Mr. Putin's Russia. Rupert Murdoch, speaking on News Corp.'s earnings call on Aug. 5, had this to say: "The more I read about investments in Russia, the less I like the feel of it. The more successful we'd be, the more vulnerable we'd be to have it stolen from us, so there we sell now."
The hoped-for liberalization under new Russian President Dmitry Medvedev has turned out to be another case of wishful thinking both in Russia and the West. There's no doubt in the business community about who's really in charge. After his cronies' takeover attempt of steel and coal giant Mechel was rebuffed, Mr. Putin's public outburst of criticism in late July was enough to destroy the company's market value.
Mechel is a tempting new target now that the price of coal is rising rapidly. As Mikhail Khodorkovsky and his company Yukos found out, in Russia success can be a very dangerous thing. Mechel may yet be another casualty of the mafia-like extortion tactics that have become a standard Kremlin maneuver.
In 2000, BP attempted to rebrand itself with the slogan "beyond petroleum." These days the company is scrambling to get "beyond Putin." Robert Dudley, the CEO of BP's Russian joint venture, fled Russia due to what he called "sustained harassment." Even the recent truce between BP and its Russian partners in BP-TNK represents a major defeat for the British company. Mr. Dudley attempted to hold a press conference in Moscow in July, but his venue was abruptly cancelled by the National Hotel, a property of the American giant Starwoods. This was not a unique occurrence.
The National Assembly, an opposition parliament with representatives from across Russia and across every ideological line, scheduled a public hearing on the Russia-Georgia conflict for Sept. 11. It was to take place at the new Hilton hotel in Moscow, and I personally signed the contract for the conference room. On Sept. 10, the Hilton cancelled the arrangement, claiming problems in the hall. Maybe all contracts in Russia should now include a third line for the signature of the local KGB official.
Two days after Mr. Murdoch expressed his concerns, Georgia and Russia opened hostilities. Europe and the U.S. waved their hands helplessly as Russian tanks and ships went far beyond defensive or peacekeeping action. It remains to be seen whether the European Union and the North Atlantic Treaty Organization, which have issued contradictory statements, can act meaningfully in the face of Mr. Putin's belligerence.
Just hours after Nicolas Sarkozy completed his second trip to the region, signed agreements in hand, several of his claims of peacemaking were contradicted by the Kremlin, leaving the energetic French president looking the fool. Mr. Sarkozy has just one more trip to go before he completes his imitation of Neville Chamberlain's infamous trio of visits to Germany in September 1938. Perhaps Georgia should not be as nervous today as Czechoslovakia was then. But one parallel is real: If there is anything an authoritarian leader cannot abide, it's a power vacuum on his borders.
Dictatorial power demands to expand into every available space. Establishing effective penalties will require great political will, especially in Europe. There Mr. Putin has defenders like Silvio Berlusconi, who boasted last week about how he prevented the EU from levying sanctions against Russia over its actions in Georgia. The Kremlin also has many influential employees, including former EU leaders Gerhardt Schroeder of Germany and Paavo Lipponen of Finland, who both took plum positions with the Russian energy giant Gazprom immediately after leaving office.
With their reliable business partners in the West, the Kremlin has opened up a lucrative market for what could be called democracy offsets. In exchange for oil and gas from Russia, they provide democratic credentials and pretend Mr. Putin and Mr. Medvedev are elected officials rather than mafia bosses.
Until Russia has a government that is accountable to its citizens, no company or individual will be safe here. The silver lining of the meltdown will be the weeding out of so many of the foreign and domestic profiteers who greedily abetted Mr. Putin's drive to turn Russia into a dictatorship. But there are still many who hope that all will be back to business as usual once the dust settles. Apparently they think the show must go on, even though many of the lead actors have left the stage — and the theater itself is ablaze.
Mr. Kasparov, leader of The Other Russia coalition, is a contributing editor of The Wall Street Journal.