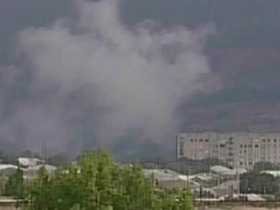 A new report on the war in South Ossetia finds that civilian casualties were greatly exaggerated by Tskhinvali, and that serious looting continues in the region, as drunken Russian soldiers look the other way. The report, titled "One month after the war: violations of human rights and the norms of humanitarian law" was presented Thursday by Memorial, Russia's most prominent human rights organization. (Video (rus))
Representatives of Memorial and the New-York based Human Rights Watch (HRW) visited the conflict zone to investigate what actually happened there. According to the rights workers, they found that the official casualty numbers put forward by Tskhinvali to be grossly exaggerated. While officials have maintained that around 1600 people were killed, no documentation confirming this figure was ever presented.
"People are individuals, and only the most detailed and full list can present an accurate picture of the death toll," said Alexander Cherkasov, a Memorial board member. He added that most of those killed on the South Ossetian side were armed resistors, and not peaceful residents. Still, Cherkasov underscored that even a small number of casualties was a grave loss for South Ossetia, whose population numbers approximately 70,000.
The rights workers made clear that looting was still rampant in the buffer zone around South Ossetia, and said local residents were responsible. Russian soldiers stationed in the area, meanwhile, have taken to drinking, and are looking the other way. "Having entered a wine-producing region, they have started to let themselves go, and may become dangerous," the authors write.
The report counters rumors that Georgian soldiers had tortured Ossetian prisoners. "As result of our trip," said HRW investigator Tatyana Lokshina, "we did not find any evidence of prisoners being tortured by Georgian special forces. There are many rumors going around about this, but no specifics."
—
For more on the human rights situation in South Ossetia see:
Human Rights Expert Tatyana Lokshina explains the conflict in South Ossetia – (Part One and Two)