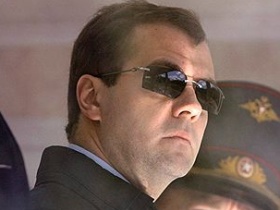 Russian President Dmitri Medvedev tried to soothe Russia's falling stock market, while taking a jab at the United States. As the RIA Novosti news agency reports, Medvedev was speaking at a meeting with Vladimir Milovidov, the head of the Federal Financial Markets Service (transcript).
"We cannot change the situation on say, the American market," he said. "The Americans will have to sort out their mortgage system and other financial instruments themselves, though, to put things plainly, they have let us all down."
Russia's two major indexes, the RTS and MICEX, have taken a tumble in recent weeks, and closed for the day at more than two-year lows.
According to Medvedev, there are "two issues we clearly need to think about. First, despite the various difficulties, Russian companies' assets are still undervalued in many cases, and this creates potential for growth. Second, given that our market is still growing, volatility is an inherent trait and this means that there can be quite serious fluctuations in evaluations, and this has both advantages and disadvantages."
"These are not the easiest times for the stock market," Medvedev said. "Unfortunately, there are objective reasons for this situation that lie beyond the power of our financial authorities and are not related to economic factors in our own country.
"Essentially, all of the financial markets and the international financial markets are going through difficult times. At the same time we also have problems of our own."
"Trends on the stock market have been quite complex of late. But we do not think they are indicative of long-term problems. This is more likely the market's reaction to a number of unfavorable circumstances, a number of difficulties at the international level and in our own economy."
Medvedev has previously accused the US of initiating a global economic crisis. In June, Medvedev spoke at the World Economic Forum in St. Petersburg (video). He explained that the huge role of the US in the world economy was one of the major reasons for what he said may be the worst economic crises since the Great Depression.
"The failure to properly assess risk by the largest financial corporations, combined with the aggressive financial policies of the world's largest economy, have led not only to losses for those corporations," he said, "but unfortunately have impoverished the majority of people on the planet."