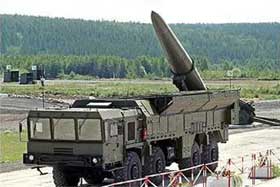 Russia may locate precision-guided weapons in Kaliningrad, the Western enclave region which borders Poland, in response to an American missile defense system in Eastern Europe. As the Gazeta.ru online newspaper reported on September 5th, the plan was laid out by colonel-general Viktor Zavarzin, the chair of the defense committee in Russia's lower house of Parliament, the State Duma. Zavarzin, who spoke before a conference on Russian forces in the Kaliningrad oblast, did not exclude the siting of tactical nuclear arms in the enclave.
According to Zavarzin, precision-guided weaponry may be installed on Kaliningrad's border regions with Poland.
Russia is acting tough after Warsaw signed agreements on locating an American missile defense base housing 10 interceptor rockets in Poland, some 185 kilometers from Russian soil.
Responding to a journalist's question, Zavarzin said that there was no present need to put nuclear weapons in Kaliningrad. However, he said the proposal had been floated, and that it "does not fall under the scope of agreements and negotiations on strategic stability, which we are holding with the Americans." The decision, he said, was ultimately left to the commander-in-chief. At present, the colonel-general said, Russia needs to modernize its surface, underwater and coastal divisions.
Mikhail Babich, Zavarzin's deputy on the committee, told Gazeta.ru that placing a missile defense system in Poland and the Czech Republic was a hostile act on the part of the US, and confirmed that Russia was planning a symmetrical response.
"We are developing a series of measures for a symmetrical response to the USA in the context of the deployment of ABM [ballistic missile defense] in Poland and the Czech Republic, and other hostile acts," Babich said. "They are being developed to guarantee Russia's safety and as a response in case of a strike on our territory."
Meanwhile, defense experts questioned by the publication were skeptical about the need for precision-guided weapons and tactical nuclear arms in Russia's western enclave. Russia's army, they said, had other hardware that already guaranteed the safety of the country's western border.
—
Related stories:
US General Warns Russia Over Cuban Bomber Deployment

Missile Defense and Hot Air from the Russian Foreign Ministry