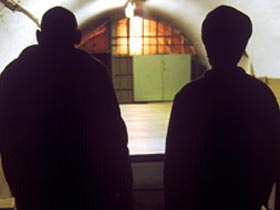 A court in Tuapse, in Russia's Krasnodar Krai, has sentenced a physically handicapped journalist to 3.5 years hard labor in a local penal colony. Sergei Rozhkov has been found guilty of "using force in relation to a representative of authority," the Nezavisimaya Gazeta reports.
Rozhkov, 32, was charged with beating two of six militsiya officers who came to arrest him in February. He was planning to make public certain documents apparently showing that the results of a regional referendum were falsified.
The journalist has been classified a handicapped person of the third group since having a lung removed.
According to Rozhkov's testimony, six militsiya officers broke into the apartment of his uncle, who he was visiting, on the night of February 2nd. After assaulting both men, the officers handcuffed them and took them to the police station. The following day, a ruling was made to arrest Rozhkov for three days.
After the journalist filed a complaint of assault with the prosecutor's office, the militsiya officers who apprehended him replied with their own complaint. During the proceedings, the court sided with the law officers. At the final hearing, Rozhkov's attorney was relived of his post.
Rozhkov himself maintains that is was physically impossible for him to beat up two militsiya officers. The journalist now has a new attorney, who plans to appeal the ruling.