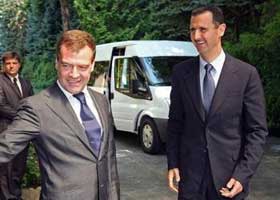 Russia is prepared to equip Syria with a host of high-tech defensive arms, in an apparent shift of official policy. Sergei Lavrov, Russia's Foreign Minister, explained the changing position on August 21st, according to a report by the RIA Novosti news agency.
"We are ready, and Dmitri Medvedev has confirmed this, to review a Syrian request to purchase new types of weapons," Sergei Lavrov said after a meeting between Medvedev and Syrian President Bashar al-Assad. "We will supply Syria primarily with weapons of a defensive nature that will not disturb the strategic balance in the region."
Al-Assad is currently in Moscow on his first official visit since Medvedev took office earlier this year.
Earlier, the Vedomosti newspaper quoted a source within the presidential administration as saying that Russia was not intending to supply Syria with "sensitive" arms, such as the Iskander or S-300 air defense systems. Still, the source said it was entirely possible that Russia would provide supplies of "ordinary" armaments, such as Su-30 and Mig-29 tactical fighter jets, the less powerful Pantsir-S1 and Buk-M1-2 missile systems, and guided anti-tank weapon systems.
Earlier this week, al-Assad admitted that military-technical cooperation was the principal concern of his talks with the Russian leadership. "Weapons purchases are very important," Mr. Assad told the Kommersant newspaper. "I think we should speed it up."
Meeting with Medvedev, al-Assad said that Syria was sympathetic to Russia's actions in the military conflict in South Ossetia. The Syrian president said that problems in the Caucasus region are in many ways similar to problems in the Middle East.
"We understand Russia's stance, and are sympathetic to the military operation," al-Assad said. "We consider it a reaction to a provocation by the Georgian side."
"We want to express our support for the Russian position on the matter of this conflict, and the situation as a whole around Abkhazia and South Ossetia," al-Assad continued. Syria, he went on, "values the "courageous position" that the Russian leadership took by deciding to pull out troops from Georgia.
With al-Assad's statements, Syria becomes the third country to back Russia's military incursion into Georgia, following Cuba and Venezuela.