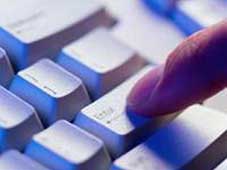 A regional court in Russia's Krasnodar Krai has sentenced an area man to 150 hours of community service for comments he left on an internet forum. As the Yuga.ru online newspaper reports (Rus) on July 20th, the court found the man guilty of writing pejorative comments towards people of a different nationality.
The man left comments on the web-forum of Kuban.ru, a regional website often filled with lively discussion, while he was at work. The statements referred to a fight between Dagestani nationals that took place in the city of Timashevsk in June 2007. The comments in question were not available for publication.
Charges were filed under article 282 of Russia's Criminal Code, which is used to combat extremism.
This is not the first time that Kuban.ru users have been charged for speaking out on the forum. In June, area resident Vyacheslav Yushkin was charged (Rus) after starting a discussion about a fight between OMON riot police and restaurant-goers in Armavir. The thread, titled "Around 20 persons of Caucasus nationality have been hurt at the hands of special forces troops" reprinted selected news about the incident. It allegedly incited racial discord and "hurt the dignity of all Armenians."
According to the lenta.ru online newspaper (Rus), another forum user was charged with defamation for comments left in the summer of 2007.