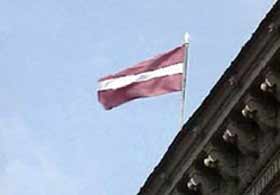 The Latvian National Security Council has included Russia in a list of major security threats to the Baltic state. As the RIA Novosti news agency reports, the agency places Russia's threat alongside terrorism, drug trafficking and illegal immigration.
According to the report, published July 9th, Russia poses less of a military threat than an economic one because it "uses energy instruments as a means of influence." The paper then speaks of Russia's rising geopolitical role, which Latvia must now reckon with.
The report also notes that recently signed border agreements between Russian and Latvia retain a large deal of contradictions, which impede a normal dialogue between the countries.
Latvia is the second country to classify Russia as a threat in the past week. On July 4th, The Times newspaper reported that the British security services see Russia as the third most serious threat facing the country, after Iran and Al-Qaeda.
In 2005, Latvia's Parliament, the Saeima, asked that Russia pay reparations for the years of Soviet occupation, in the amount of 60 to 100 billion dollars.
Ivars Godmanis, the Latvian Prime Minster, will introduce the National Security Council report to Latvia's ministers on July 10th.