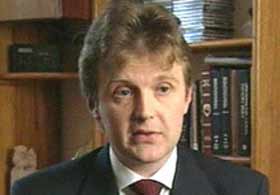 Unnamed sources within the British intelligence community have told the BBC that the Russian state was very likely involved in the murder of dissident Alexander Litvinenko.
Litvinenko, a former KGB officer and vocal critic of former Russian President Vladimir Putin, was poisoned with a radioactive substance in London in 2006. One high-ranking official said he had "very strong indications it was a state action."
British investigators have complained that Russian authorities have not been cooperative. Citing a law barring extradition for its citizens, Russia has refused to hand over Andrei Lugovoi, another former KGB officer suspected by UK authorities of the murder. Lugovoi maintains his innocence.
MI5 officers also said they had averted an assassination attempt against Boris Berezovsky, a wealthy Russian oligarch living in exile in London. Russia has previously tried to extradite Berezovsky, a vocal Putin critic charged with fraud and political corruption.
Relations between the UK and Russia reached post Cold-war lows after the Litvinenko murder, and have remained rocky ever since. The Times newspaper reported on July 4th that British security services see Russia as the third most serious threat facing the country, after Iran and Al-Qaeda.
Other officials told the Telegraph newspaper that that Russia's spy efforts in the country have taken resources away from fighting terrorism.
"MI5's resources have been stretched to the limit for the past few years," one source said. "There have been times when there was nothing left in the locker, when all of our assets were being used on one operation."
British Prime Minister Gordon Brown and Russian President Dmitri Medvedev are currently meeting at talks of the Group of 8 in Japan.