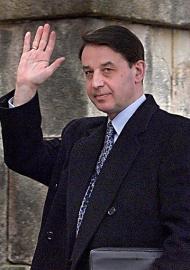 The Russian state will soon re-start a Soviet era practice of commissioning and funding patriotic films. As the Interfax news agency reports, Alexander Avdeyev, Russia's Minister of Culture, announced the plans at a meeting of the State Duma.
"We will invite distinguished film directors, cinematographers, the best film crews," Avdeyev said. He noted that a major goal of the initiative is to foster the creation of "film-reels that have a humanitarian, spiritual, [and] patriotic character." "Starting in 2009, we will have state contracts with significant financing," he went on to say.
The Minister's statements come at a time when the government is taking a keener interest in Russia's film industry. The State remains the country's largest film producer, and widely subsidizes films by certain directors and on certain themes. Funding also comes indirectly, through Kremlin-affiliated businessmen and non-profits, such as the Fund to Support Patriotic Films, which is backed by the Federal Security Service (FSB).
Avdeyev noted that the share of Russian movies played in theaters was steadily rising, and was now close to 30%. As comparison, 95% of films shows in the US are home-grown, according to the Kommersant-Vlast magazine. French and Italian films, one the other hand, hold 36.5 and 31.7% share of their respective film markets.
"Nevertheless, 70 percent [of films shown in Russia] are the screening of low-grade American production," Avdeyev said.
The Minister also announced that a new program meant to replace film-reel theaters with digital ones has already started this year.
—
Read more about the Russian government's growing role in the domestic film industry.