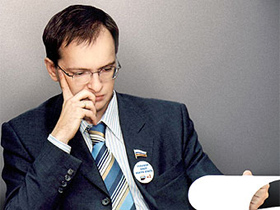 A Moscow court has found a wealthy Russian businessman guilty of defamation in a blog entry, compelling him to pay out a token sum and issue a retraction. As the Interfax news agency reports on June 23rd, Alexander Lebedev has already paid out the necessary 30,000 rubles (€820 or $1270).
The post in question appeared on Lebedev's personal LiveJournal site last summer. In it, the businessman wrote that another State Duma representative, Vladimir Medinsky, "lobbies on behalf of gambling industry interests." An open letter with similar implications was also posted by Lebedev on the website of the Kommersant newspaper. Medinsky then filed a suit in defense of his honor, dignity and business reputation, asking for 100 million rubles (€2.7 or $4.2 mln) in compensation.
According to a statement released by Medinsky's press-service, the case is precedent-setting, marking the first time that "a ruling on the defense of honor, dignity and business reputation, concerning publications in a weblog, had led to tangible consequences for the guilty party."
Medinsky himself said that the ruling was an important step in setting guidelines for the media as it continues to move into the blogosphere. "It is essential to know what one may and may not do," the parliamentarian said. "Regardless of whether 500 thousand people read it, 5 thousand or merely 50."
"Insulting other people with impunity in ones weblogs is now impermissible."
Artem Artemov, Lebedev's press-secretary, said the businessman was unhappy with the ruling and trial, but that he would comply fully with the law. "Lebedev does not agree with the Basmanny court decision," he said. "But, as a law-abiding citizen, he has paid out 30 thousand rubles to Medinsky, and has published the phrase required by the court in his LiveJournal weblog."
The Russian judicial system, while not based on precedents, does take past cases into account.
alternate spelling: Aleksandr Lebedev.