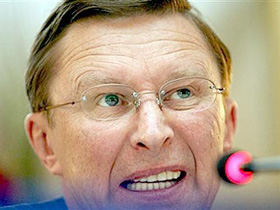 Russia's transport aviation earns income from foreign wars, and will continue to do so. As RIA Novosti reports, such were the words of Deputy Prime Minister Sergei Ivanov, who was speaking at the 12th St. Petersburg International Economic Forum on June 8th.
"Our business participates in the transportation support of wars led by other nations," Ivanov said. "We earn income from wars, however cynical that may sound."
"Russia itself does not make war," the former Minister of Defense added. "The government, at any rate, does not impede our business of carrying out military transports on behalf of other nations. We will continue to do this."
Following up, Ivanov spoke of Rostekhnologia, a state-run umbrella corporation formed in 2007 to oversee the Russian high-technology industries. According to Ivanov, the enterprise will focus primarily on the defense industry. "Rostekhnologia doesn't exist yet, it hasn't been established – there are still fierce discussions of what to include in it, although, fundamentally, it will of course engage in military-industrial matters," he said. "That's clear."
Ivanov went on to say that the state must play a leading role in creating an economic system based on innovation.
It was earlier reported that First Deputy Prime Minister Igor Shuvalov instructed the Government to complete work on transferring control of several hundred enterprises to Rostekhnologia by June 9th.
As many as 600 companies may become a part of Rostekhnologia, which has raised the ire of the Federal Anti-Monopoly Service (FAS) and the Finance Ministry. FAS has raised questions about transferring shares of privately-owned companies, such as vehicle manufacturers Kamaz and UAZ, to a state corporation. The Finance Ministry, for its part, has protested the inclusion of enterprises not directly involved in the military-industrial complex into Rostekhnologia.