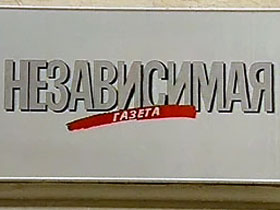 The editorial offices of the Nezavisimaya Gazeta (NG – literally "Independent Newspaper"), a prestigious Russian newspaper, could soon be evicted from its central Moscow offices. As the Vedomosti newspaper reported on May 29th, the move is likely a response to the publication's critical coverage of the Moscow city government and Mayor Yury Luzhkov.
The paper apparently received a letter from the city government's property department, and was told to vacate their building within 30 days. While the department claims that repairs need to be done to the site, two restaurants in the same building did not receive a similar notice.
Konstantin Remchukov, NG's owner and editor-in-chief, told Interfax that the eviction was a retaliation for articles that criticized Luzhkov over statements the mayor made at the Ukrainian port city of Sevastopol. Luzhkov had sparked tensions with Ukraine when he called for the port to be returned to Russia.
NG has held its Myasnitskaya Ulitsa location since it was founded in 1990.
Unnamed sources within the city administration backed Remchukov's assertions, saying that the move was a response to the articles about Luzhkov's speech in Sevastopol, as well as speculations by NG that Luzhkov may retire.
Sergei Tsoi, the mayor's press secretary, meanwhile denied any hints of Luzhkov's involvement in the eviction. "Neither the mayor nor the Moscow city government have ever persecuted media outlets and particular individuals for dissent, not to mention a publication with such a title," he told Interfax.
It is worth noting that the editorial offices received the notice on May 26th, the day court hearings began against Boris Zemtsov, a deputy editor-in-chief at NG. Zemtsov is accused of extorting 40 thousand dollars from bureaucrats of the Ministry of Agriculture, as well as drug possession. Nezavisimaya Gazeta had earlier written that Zemtsov's arrest may be an attempt to silence the paper's critical reporting.