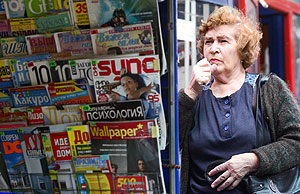 Russia's major print media have called off a May 21st day of protest, which was prepared in response to skyrocketing postal delivery rates. As the Interfax news agency reports, the newspapers and magazines have cancelled their demonstration after the presidential administration stepped in.
It was earlier reported that a row of Russia's most prominent publishers were planning to print a blank front-page on May 21st, with only five lines of text. The protest was meant to signify what would happen if the price for delivering newspapers continued to rise, and if consumers could no longer afford subscriptions. "Freedom of the press can be strangled in different ways," a group of editors said in a statement. "For instance, by a sharp jump in subscription rates." Participating publications included the Argumenty i Fakty, Izvestia, and Komsomolskaya Pravda newspapers.
By the late afternoon, the event was dropped.
"White lines won't be issued tomorrow," Pavel Gusev, the editor-in-chief of the Moskovsky Komsomolets, told Interfax. "The fact of the matter is that the presidential administration and the Ministry of Telecommunications and Print got involved in the affair, and most likely, all of our demands will be satisfied." Gusev, who heads a federal advisory committee on matters of freedom of speech in the media, said that special negotiations will take place Thursday.
According to the publishers, the Russian Post has broken promises to keep price hikes tied to inflation.
Vladimir Sungorkin, the editor in chief of Komsomolskaya Pravda, said that "prices have recently grown by 100%, 200%, and even 400% in some regions." He added that corruption and mismanagement at the postal service was partly responsible.
Vladimir Mamontov, the editor-in-chief of Izvestia, said that "the action [was] directed to sparing the print media, for now."
"Commercially successful newspapers are taking part in the action, but they are also worrying," Mamontov continued. "And what of those publications, that don't have the capacity to use the resources of the advertising market to such an extent?!"