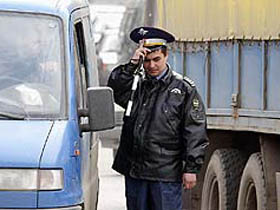 Russia's Ministry of Internal Affairs (MIA) has developed new rules for traffic police. As the RBK-Daily business newspaper reports on May 19th, the Ministry apparently wants to regulate how its road officers interact with drivers.
Officers of the State Inspectorate For Traffic Security (STSI), which oversees Russian roads, have an abysmal public image and are notorious for rampant corruption.
The document of new rules contains a number of innovations. For instance, every STSI unit will need to create and maintain a website. On a more direct level, officers will also need to present a form of identification upon stopping motorists.
The new requirements, which could take effect as soon as this summer, would also change the procedure for how road police check drivers for intoxication. Officers will need to have two witnesses present, and will need to use breathalyzers that provide a printout of results.
In an effort to combat corruption, road police will now have the right to use video and audio recording equipment while conducting a stop. In theory, this should prevent officers from taking bribes and keep drivers from starting a provocation with the militsiya. However, using the surveillance equipment will be optional, and the officers will be able to turn their recorders off and on at will.
The protocol also provides guidelines, previously unwritten, for how officers must act in the most common types of interactions with drivers. For instance, drivers pulled over for a moving violation will often tuck money into their documents before handing them to the STSI officer. Under the new rules, the militsiya officer must now immediately return the documents and ask that the driver remove their money.
Experts, however, are skeptical that the new protocol will prove useful. According to Viktor Pokhmelkin, the chairman of the Movement of Russian Motorists, corruption would be better resolved by a federal law, and not an administrative ordinance like the new regulations. "Otherwise, this is just the imitation of a battle with corruption," he said.
The judicial system seems to lend its weight to Pokhmelkin's arguments. Court statistics show that law enforcement officials are rarely brought to justice for bribery and corrupt practices, even in cases that seem open and closed.
The chairman of the St. Petersburg regional branch of the Committee for the Protection of Motorist Rights, Aleksandr Kholodov, believes the new protocol is no more than a reminder for militsiya officers. He told the Sobkor®ru news agency that the document simply repeats an earlier administrative order issued by the Ministry of Internal Affairs (MIA of the RF Order No. 297 from 1999), with a few additions. Kholodov added that the new document has the same content in a different form, and as result does not carry any weight for dealing with corrupt officers. "The protocol does not add any new rights and obligations," he said. "This is a technical document; it can only establish some kind of internal rules."
As the RBK-Daily points out, the first federal department to release an administrative order was the Ministry of Economic Development and Trade (Minekonomrazvitiya), which started a sort of vogue among Russia's administrative bodies. Now, every agency seems intent on releasing a new protocol for how its civil servants interact with citizens.
It remains to be seen whether the new rules will have any effect on corruption.