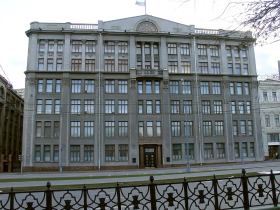 For the first time, the leadership of Russia's judicial system has admitted that courts in the country receive direct pressure from the Kremlin. As the Kommersant newspaper reported on May 13th, such was the testimony given by Yelena Valyavina, the first deputy chair of the Supreme Arbitration Court.
Valyavina testified as a witness in Moscow's Dorogomilovsky court during a libel trial regarding the defense of honor of Valery Boyev, an aide in the administration of former President Vladimir Putin. Boyev has sought the retraction of statements made by journalist and anchorman Vladimir Solovyev, who spoke of the Kremlin's interference in the work of Russian courts.
Valyavina described before the court how Boyev contacted her with instructions regarding a high-profile case of the Tolyattiazot joint-stock company. After Valyavina refused to comply, Boyev allegedly threatened that she would be not be reappointed to her post.
Valyavina went on to describe the role Boyev plays in appointing judges: "As a representative of the presidential administration, he sits in on sessions of the Supreme Judges Qualification Board, where he can make public certain information. The speed with which judges are appointed to their positions also depends on him." Furthermore, Valyavina added that judges may fear losing deserved government decorations if they stand by their principled positions.
Valery Boyev, a personnel and state decorations assistant working in the Kremlin, filed a civil libel suit to defend his honor and dignity in April. He demanded the retraction of assertions made by Vladimir Solovyev during a broadcast on the Severny Dozhd (Northern Rain) radio station, which were also later printed on the treli.ru website. The statements in question are as follows: "That same Boyev, who commands the Supreme Arbitration Court." "There are no independent courts in Russia. There are only courts, dependent on Boyev." And finally, "This is what's called Russian justice, which is supervised by… Boyev"
A new session of the court will meet on May 26th. The defense plans to bring three witnesses: the chairman of the Moscow Oblast Arbitration Court, Yevgeny Ilyin; the chairman of the Nizhny Novgorod Oblast Arbitration Court, Boris Kanevsky; and the chairman of the Tenth Arbitration Appeals Court, Artur Absalyamov.
In the meantime, the process continued. Valery Boyev's attorney commented that his client merely prepares documents on the appointment of judges, and cannot show interest in the millions of cases under consideration in Russia's courts.
The defense has asked that Boyev himself appear in the court, and said that according to their information Boyev serves as a colonel in Russian Federal Security Service (FSB). "If Yelena Valyavina's facts prove true, then this will now be a criminal case, and not a civil one," Solovyev said.
Experts said this was the first time a highly-ranked official publicly has accused Kremlin staff of pressuring Russia's highest court.