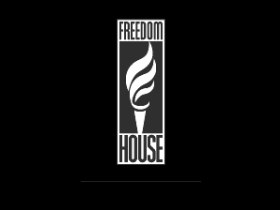 An annual report released by the US-based Freedom House finds that media freedoms in Russia have "continued to decline in Russia as the Kremlin further restricted independent news reporting and public dissent." The yearly survey, released this week by the non-partisan watchdog group, ranks Russia as "Not Free" and equates press freedom in Russia with that of Kazakhstan, Yemen and Sudan.
According to the document, Russian "journalists faced dozens of criminal cases and hundreds of civil cases" in 2007. Two suspicious deaths, those of Ivan Saforonov and Vyacheslav Ifanov, were deemed "suicides" by authorities, and at least three journalists were behind bars at the end of 2007. The report goes on to describe an alarming incidence of reporters who sought asylum abroad after harassment by officials, as well as two journalists, Larisa Arap and Vladimir Chugunov, who were imprisoned in psychiatric hospitals after writing articles criticizing local authorities.
Russian officials have previously called Freedom House biased against the country.
Russia was not the only former Soviet country to drop in the organization's rankings. The group describes a wide downward trend in much of the Soviet Union, including Georgia, Kazakhstan, Belarus and Azerbaijan.
Still, among the countries of the former Soviet Union, Russia has seen some of the sharpest declines, and is now above only Uzbekistan, Belarus and Turkmenistan.
According to the publication, "Russia [in 2007] remained one of the most dangerous countries in the world for the media." In addition, "Lively but cautious political debate was increasingly limited to glossy weekly magazines and news websites only available to urban, educated and affluent audiences."