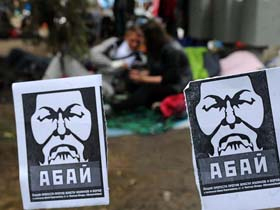 An activist supporting the persecuted punk group Pussy Riot was arrested at a public gathering of members of the Russian Occupy movement in Moscow on Friday, Gazeta.ru reports.
The activist was part of a crowd of between 30 and 100 people who arrived at the statue of Kazakh poet Abay Qunanbayuli to celebrate his birthday and attempt to renew the atmosphere of the protest movement.
As a message on the group's Facebook page explained: "On August 10, in honor of the 167th birthday of Abay Qunanbayuli, the movement Occupy Moscow invites everyone to take part in an improvisational festival on Chistoprudny Boulevard. With your help, we would like to renew the atmosphere of the May camp of Occupy Abay, at least for a little while."
A number of poets and Kazakh activists were slated to speak at the event, including Kirill Medvedev, Matvei Krylov, ArsPegas, and others. A musical performance and pop-up art exhibit were also planned.
Although the original Russian Occupy movement was overtly political, organizers said they saw no reason to request permission from local authorities to hold the celebration.
Aleksei Mayorov, head of the city's regional safety department, said before the event that police would "consider the form and content of the event" while present. He promised not to interfere so long as public order was maintained and the gathering did not seem political in nature.
A number of police cars and four paddy wagons could be seen parked nearby the poet's statue throughout the evening.
While there was no chanting of political slogans on the part of the celebration's participants, one activist did unfurl a poster demanding the release of the three arrested members of the punk group Pussy Riot. As of Friday night, it was unclear what charges the arrestee might face.
Because of the Russian Occupy movement, Abay Qunanbayuli has become one of the main symbols of the country's recently energized anti-governmental protest movement. In May, OMON riot police broke up a camp around the statue that had dubbed itself "Occupy Abay" only ten day after its inception. An attempt to renew the camp lasted less than one day when police charged organizers with lacking the proper documentation to distribute food and water.