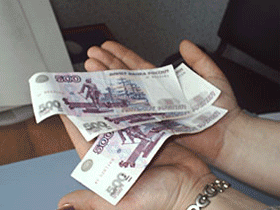 On April 16th, Russia's National Strategy Institute, an independent think-tank, held an expert seminar entitled "The shadow sector of Russia's economy, and pathways to minimize it."
Nikita Krichevsky, an economist that moderated the seminar, underscored the significance of the problem, commenting that shadow –or "off the books"—incomes account for 44 percent of all income in the country. Thus, some 6.5 trillion rubles ($278.8 billion or €174.9 billion) go undocumented each year, meaning that almost 850 billion rubles ($36.5 billion or €22.9 billion) never make it into the national budget. According to Krichevsky, the inability to collect these tax revenues contributes to Russia's low pensions and low wages for government workers. He went on to name five reasons for the shadow economy, the principal of which is corruption.
Yevgeny Gontmakher, the director of the Center for Social Studies at the Institute of Economics of the Russian Academy of Sciences, agreed with that assertion, adding that the problem has a political character. In his opinion, the system of taxation must be reformed to keep revenues at the municipal level. He suggested that income and property tax remain decentralized, and added that battling corruption would break the "aqueous armistice" currently drawn up between the authorities and the criminal element.
Vladislav Inozemtsev, a well-known economist from the Center for Post-Industrial Studies, commented that Russia is far from the only place with a significant shadow economy. In the US, it represents some 10-11 percent, in Europe, 7 percent, and in Latin American countries, undocumented income reaches 50 percent. Inozemtsev believes that the government is currently in a successful position, since the public and the authorities are content with the situation, and since similar conditions of corruption can exist for decades.
Economist Mikhail Delyagin, a former aide to President Boris Yeltsin, suggested that Russia's judicial system must be changed if battling corruption was actually a priority. In his words, this could be done very simply by firing all the judges and replacing them with fresh blood.
During the seminar's concluding remarks, Nikita Krichevsky reviewed the findings: "All the experts invited to the seminar, in general displayed an enviable unanimity, discovering a link between corruption and a shadow economy." He added that the experts had jointly agreed that solving the problem required political steps, and must be taken on by the new elites.