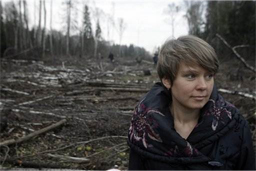 Leading environmental activist Yevgenia Chirikova spoke today at a public hearing of the European Parliament about illegal highway construction through outer Moscow's protected Khimki Forest, Kasparov.ru reports.
Human rights activist Oksana Chelysheva told the news portal that Chirikova was met with support from representatives of the Green Party, Democrats for Europe, social democrats, and liberals. In particular, Greek Deputy Kriton Arsenis stressed that the Khimki Forest needs to be given more protection.
Conservative Estonian Deputy Tunne Kelam said that the participation of the French company Vinci, which has been contracted to build the highway, in the corrupt actions of Russian governmental and business structures represents a direct threat to Europe.
The deputies proposed an extensive series of measures at the conclusion of the hearing. Notably, the French Parliament is going to hold an official hearing on the highway project, and deputies are going to prepare an inquiry to the European Commission about Vinci's role.
In addition, the company's management will be called to a session of the Parliamentary Assembly of the Council of Europe, of which Russia is a member, in September. The situation will be carefully studied by the committees on legislation, relations with the European Parliament, civil freedoms, jurisprudence, and internal parliamentary affairs.
Finally, deputies plan to issue a joint statement in regards to Vinci's actions.
The decision to build a highway from Moscow to St. Petersburg through the Khimki Forest was made in 2006 under the leadership of then-Moscow Mayor Yury Luzhkov. Grassroots environmental activists strongly opposed the project from the beginning, both due to damage to the forest and because of alleged corruption in the business deal for the project.