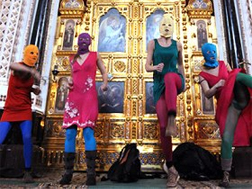 A group of independent experts has concluded that the political persecution of members of the Russian punk group Pussy Riot is illegal, Kasparov.ru reports.
A report written by Yury Kostanov of the Independent Judicial Expertise Council was released today by the Presidential Council on the Development of Civil Society and Human Rights.
"The actions that Tolokonnikova, Samutsevich and Alekhina are incriminated of are certainly at least reproachable, but they do not constitute criminally prosecutable hooliganism," says the report.
The conclusion was reached after the experts analyzed the decree written by investigators announcing that the women were being charged and the lyrics to the song they performed in the Church of Christ the Savior – the event that sparked the investigation.
"After accusing Tolokonnikova, Samutsevich, and Alekhina of collectively committing the actions they are incriminated of by motivation of religious hatred and enmity, the investigator did not conclude that there were any grounds for this," the report goes on to say.
"Judging by the lyrics of the song performed, the enmity expressed towards V. V. Putin and V. M. Gundyaev is not religious in nature. Religious hatred in the sense of article 213 of the Criminal Code of the Russian Federation means hatred towards members of a certain religion precisely because of their religious leanings, an active rejection of religious ideals or an assertion of their own religion, or because of atheistic views. Presenting one's views in a shocking way does not in and of itself constitute a manifestation of hatred towards the Christian (or any other) religion," Kostanov wrote.
"The decree likely contains the investigator's expression of judgment of the offense rather than a description of a way of committing a crime," it concludes.
Yesterday, Moscow's Tagansky Court extended the pre-trial detention of the three alleged members of Pussy Riot, who have already been held since March 2012. The three face up to seven years in prison for charges of "hooliganism." Protests outside the court on Wednesday ended numerous arrests.