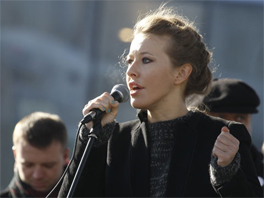 Lawyers for Russian socialite-turned-opposition activist Ksenia Sobchak are demanding that federal investigators return 1.5 million euros in cash that were confiscated from her apartment in a raid on Monday, Interfax reports.
"We are going to the interrogation on Friday. We are going to demand a return [of the money] because we consider its confiscation to be absolutely illegal," said lawyer Genri Reznik.
"I am a rational person and I make a good living. I don't have stock in Gazprom; I earn money through hard work. And where I keep this money – in envelopes, in a box, in jars – that's my personal business," Sobchak told journalists.
According to Ekho Moskvy radio, the activist also said that she preferred to keep her money on hand because she doesn't trust the Russian banking system. "What's criminal about me keeping my savings in envelopes? Where else should they be, in toilet paper or in magazines?" she asked.
The cash was confiscated on June 11 as part of a ten-apartment raid by Russia's Investigative Committee. At the time, officials said the money was taken because "the source that the funds were acquired from has not been established." Investigators now say that they are looking into whether or not Sobchak has paid due taxes on the money, and also checking if it is counterfeit.
The raids, which were mostly on apartments belonging to organizers of a tumultuous May 6 protest, came a day before the largest anti-government protest that Russia has seen in years, with estimates ranging between 50 and 200 thousand participants, 650 arrests, and 47 injured protesters.