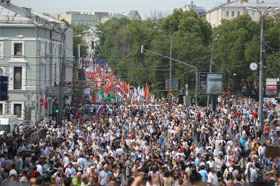 As many news outlets are reporting, June 12 marks the largest opposition protest in recent Russian history, with organizers estimating that as many as 200 thousand people came out into the streets of Moscow to demand an end to the repressive Putin regime. Another sizeable event took place in St. Petersburg, where approximately 7,000 people came out to protest.
Although the center of the opposition movement is in the capital, the fact that this has been a national phenomenon often goes unnoted. Numerous cities throughout Russia's provinces also held protests on Tuesday, with varying levels of police interference.
In Perm, about 500 activists gathered on Komsomolskaya Square for a march that ended with a rally. One counter-protester attempted to break through onto the stage with a flag from the leading United Russia party, but was soon removed by police. However, protest organizer Maksim Zhilin was also arrested, supposedly for holding a poster that read "Putin is a Thief." According to eyewitnesses, and as is clear from photos taken at the scene, there were dozens of such posters. It was therefore unclear why the police only focused on the organizer.
In Tomsk, about 300 people came out to protest from a range of opposition-leaning parties and organizations, including Solidarity, the Left Front, the Communist Party, A Just Russia, and Yabloko. The general consensus at the event was that the current government is illegitimate and that Vladimir Putin should resign from the presidency. The group also announced its agreement with a key opposition proclamation, dubbed the Manifesto of a Free Russia, that was introduced at the concurrent protest in Moscow.
A rally agreed to by local authorities took place outside the regional government building in Tyumen in solidarity with the March of Millions in Moscow and against new measures signed into law last week that greatly increase fines for breaking protest regulations. The event was organized by a variety of independent rights groups for workers, women, farmers, voters, general citizens, and others, as well as the Russian Communist Workers Party and the Left Front. While organizers said that about 200 people showed up, police put the number at 35.
In Barnaul, 100 people came out to protest from Parnas, the newly-revived Republican Party of Russia, the League of Voters, the Barnaulskoe Civil Movement, and others. Organizer Viktor Rau was arrested the morning of the event, which was unsanctioned by the local government. The official reason for his arrest, however, was related to a fight that happened three years ago in which someone beat one of his workers. Rau was summoned to appear in court at 1 pm that afternoon, after which he was able to take part in the protest.
Andrei Terekhin, leader of the Reformation movement and organizer of a protest in Novosibirsk, was arrested along with several supporters during that event. According to participants, Terekhin was approaching the protest by car when he was stopped by traffic police 200 meters away. The police asked him for his documents, despite the fact that he was in the passenger's seat. They said they would have to detain him when the activist replied that he didn't have them.
According to eyewitnesses, nearly a dozen officers attempted to physically drag Terekhin out of the car and into a patrol vehicle. Several activists who tried to help him were beaten by police, one so badly that an ambulance had to be called.
It was already the third time Terekhin had been arrested in the past several days. He was detained on June 8 for two hours with no explanation, and on June 10 he was removed from a train that was supposed to take him to Moscow, where he had planned to take place in today's march.
Several protests also took place in Omsk. At one, about 100 people gathered around a monument to political repression with the white ribbons and flags that have come to symbolize the protest movement. Among them were activists from the Civil Coalition, Yabloko, and a group of women on hunger strike against lawlessness in the law enforcement, judicial, and governmental systems. Police were equally divided between those in plainclothes and those in uniform. Despite the relatively small number of people at the event, a suspected police helicopter hovered over the crowd for several minutes. The group later joined up with another rally made up of leftist activists protesting problems with Russia's housing authority.