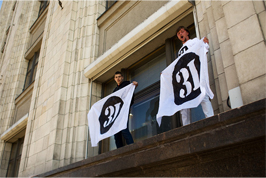 Police have arrested dozens of opposition activists outside the Russian State Duma protesting against a piece of legislation that would severely restrict the laws governing demonstrations, Gazeta.ru reports.
The opposition gained approval from Moscow city authorities to hold the protest outside at 11 am, but police began making detentions before the event even began. Members of the Yabloko and Other Russia opposition parties were among the detainees.
"Eighteen people have been detained, including myself… We didn't violate any laws. We had one sign and flyers. We advertised that citizens could come to a rally agreed to by the authorities that was starting at 11 am," Yabloko leader Sergei Mitrokhin told Interfax. Also detained was Yabloko member Galina Mikhaleva, who had held a solitary protest outside the Duma.
Mitrokhin said he was held in a police station for five hours and charged with violating the order of holding a mass event. Mikhaleva stands accused of holding three posters at once during her solitary picket, and also for handing out flyers and "calling out slogans." Mitrokhin wrote on his Twitter account that "it was written in the protocols that Galina Mikhaleva has four hands."
One activist from Other Russia was arrested after trying to fasten a bicycle lock around the Duma's entrance.
Sergei Davidis from the Solidarity movement was also detained. "Those impudent cows detained me in a solitary picket outside the State Duma. I stood there with a poster saying 'the amendments on rallies are a crime!'" he wrote on Twitter.
According to Left Front activist Anastasia Udaltsova, at least 23 oppositionists were arrested. The arrest monitoring site OVDinfo.org puts the number closer to 70.
Opposition protests continued elsewhere on Tuesday. Later in the day, activists began a "peaceful stroll" while wearing the white ribbons that have come to symbolize the protest movement. Also, 30 protesters formed a human chain across the street from the State Duma. Two police vans pulled up after twenty minutes, and according to Interfax police detained "several suspicious citizens" who were all wearing symbols of the "white movement."
While three of the four parties in the State Duma – A Just Russia, the Communist Party, and the Liberal Democratic Party of Russia – all oppose the new law, the majority faction and party of power, United Russia, supports it in full and it is therefore expected to pass.
A meeting by the Duma's upper chamber – the Federation Council – is already planned for Wednesday, where the law is also expected to be passed. If it is then immediately signed by President Vladimir Putin, it would go into effect in time for a massive opposition march planned for June 12. However, because of Tuesday's "filibustering" by the non-United Russia factions, the process may be somewhat delayed.