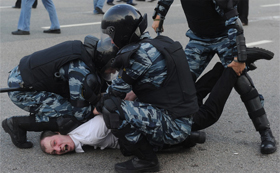 Tens of thousands of anti-Putin protestors in Moscow arrived at a sanctioned rally site only to find it overrun with thousands of OMON riot police. Despite having received government approval for the rally's time and place on Bolotnaya Square in Moscow, the protestors were met with narrow police cordons, limited entries to the square, and police lines that cut the park in half. With over 50,000 marchers angry over Kremlin corruption, political stagnation, economic marginalization – and most of all, angry over Putin's attempt to install himself as president for life – the confrontation the police were hoping for was nearly inevitable.
Many citizen videos show that the heavy police lines were well inside the rally's official perimeter long before it was scheduled to conclude at 7:30 p.m. This illegal presence served no purpose other than to provoke conflict. All of the clashes and all of the arrests took place inside the authorized protest zone. Tensions were already high with the city paralyzed under such heavy police presence that it approached martial law. Several of the protest's leaders, Alexei Navalny, Boris Nemtsov, and Sergei Udaltsov, were actually arrested at the stage of the rally. Another protest leader, Garry Kasparov, asked, "Why is there such police pressure against an officially sanctioned rally? Every single one of our marches have been peaceful, so why provoke clashes now? The only reason is that they are nervous and want to portray us as dangerous radicals."
The Kremlin's repression tactics were the same they have used against the "Strategy 31" marchers, but the results are very different when there are tens of thousands of protestors instead of hundreds. The protestors were not the "extremists" advertised by the state-controlled media. They were citizens fed up with years of lies and corruption. Today's events make it clearer than ever that Russian society will not be satisfied with anything less than Putin's exit from power, and that the protests will continue until he is gone. It is equally clear that Putin has chosen the path of confrontation and that he will not shy away from violence against the Russian people.
Videos and further reading:
Beaten protestor carried away as crowd chants "Murderers!" at police
Frank Luntz was at the rally and reports for Fox News
Photo gallery of the day's violence
Remarkable photo of a child facing rows of riot police