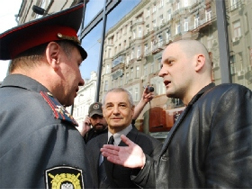 Russian police have been accused of harassing opposition figures in an attempt to prevent them from attending a meeting with civil activists, Kasparov.ru reports.
Left Front leader Sergei Udaltsov and three other activists were driving to a meeting on April 29 in the Russian city of Yaroslavl when police stopped their vehicle and demanded that it be checked for weapons and narcotics.
"On the way to Yaroslavl, where a meeting between civil activists and representatives of opposition movements to plan for [protests on] May 6 was planned for today, our car was stopped by traffic police," Udaltsov wrote on his Twitter account. "We spent more than an hour at their post – supposedly to check the car for weapons and narcotics."
"Our plans are ruined – we're not going to be on time for the meeting," he wrote later.
According to Udaltsov, the police eventually admitted that they found nothing in the car and even issued an apology to the activists.
"I believe that their aim was to disrupt the meeting. But we're going to Yaroslavl anyway," he said.
Russian opposition forces are planning to hold a massive march – dubbed the "March of Millions" – in Moscow on May 6, the day before Vladimir Putin is set to be reinaugurated as president. The march is planned to begin at 3 pm and go from Triumfalnaya Square down Tverskaya Street and end next to the Kremlin on Manezhnaya Square.
Organizers applied for a permit from Moscow City Hall on April 23, but city authorities rejected the application, saying that the march would disrupt preparations for the May 9 Victory Day parade. Instead, they proposed that it be held on the Frunzenskaya Naberezhnaya – outside of the center of the capital. Nevertheless, organizers continue to insist on holding the march in the original location.