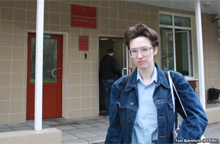 In just over a week, Vladimir Putin is set to be re-inaugurated as the president of Russia for the third time ever. At the same time, the wave of massive protests that marked this past winter have largely subsided, leaving analysts and activists alike pondering what the future holds for the political opposition. Meanwhile, a number of alternative politicians who were elected to municipal and regional posts – largely unnoticed because of all the attention on the presidential campaign – have begun to make waves of their own.
As Radio Free Liberty/Radio Europe reports:
When Moscow City Court Judge Svetlana Gavrilina scolded three government inspectors this week for issuing construction permits to build on the site of a federally protected park, it was clear that an unusual ruling was on the way.

"More and more monstrous buildings are springing up all across Moscow! More and more trees are being chopped down and there is less and less air to breathe!" Gavrilina said. "If you want your children to die of cancer, then that is your right. But I won't have it!"

Still visibly angry nearly an hour later, Gavrilina ruled that the Moscow city government illegally felled hundreds of trees to make way for a three-story building on the site of a park at the historic Stroganov estate in Moscow.

The ruling was an unusual rebuke to city hall from Moscow's usually docile courts. It was also a most unlikely victory for Sasha Andreyeva, a newly elected opposition deputy in Moscow's Lefortovo District Council.

Andreyeva, a former English teacher who has been in office for a little more than a month, has decided to take on what she believes is a widespread practice in which city officials skim off kickbacks by commissioning construction projects on any available patch of land in the capital.

Her battle with the mayor's office is a sign of things to come in the Russian capital following big gains for opposition candidates in Moscow's district council elections last month, analysts say. Such grassroots assertiveness is also something likely to be seen more often across the country in the wake of opposition victories in mayoral elections in Tolyatti and Yaroslavl.

"This is democracy in action," says Pavel Salin, an analyst at the Moscow-based Center for Political Assessments. "Politically and socially active citizens are standing up not only for their own interests but the interests of others who live around them."

Salin says the Andreyeva case gives cause for optimism. "First, that a person has defended their interests against the Moscow authorities in a Moscow court," he says. "And second, that this person was elected to the municipal assembly."

With Prime Minister Vladimir Putin set to be reinaugurated as president on May 7, the fight over the Stroganov estate construction project is the latest indication that the era of tightly managed top-down politics he established more than a decade ago might be coming to a close.

As the authorities focused all their efforts – and administrative resources – on securing Putin's victory in Russia's March 4 presidential election, hundreds of opposition candidates slipped under the radar and won a third of the seats in Moscow's 123 district councils on the same day. Their ranks include colorful figures like professional poker player Maksim Kats to ordinary citizens like journalism student Vera Kichanova and Andreyeva, a former English teacher.

With scant financial resources, the 32-year-old Andreyeva campaigned door to door and focused on bread-and-butter issues whose increasing social currency reflects the political awakening that Russia has undergone since the mass protests following December's disputed parliamentary elections.

Andreyeva, who has lived her whole life in eastern Moscow's Lefortovo District, told RFE/RL that she was inspired to enter politics because she wanted to have a tangible impact on issues that touch the everyday lives of Muscovites.

"You can't constantly run around with a bucket trying to catch all the drips from the holes in the ceiling. You have to acquire political power and not rely on others," she says. "You need to work to make sure that the law functions normally so you don't have to resolve situations like [the Stroganov construction project] in court. You have to make sure that such things could never happen in the first place."

The Stroganov project attracted Andreyeva's attention months before she even considered seeking a district council seat. In June 2011, she and other local residents discovered that a prized patch of land on the grounds of the Stroganov estate had been earmarked for a three-story building that would dwarf the 18th-century estate. Three hundred trees were rapidly felled and within months construction was under way.

Following the April 23 court ruling, it appears that construction will be stopped and the building scrapped, although lawyers for city hall say they will appeal the ruling.

Andreyeva isn't the only Moscow district council deputy locking horns with city hall over construction projects. Yelena Tkach of the capital's Presnya District and Natalya Chernysheva of the Gagarinsky District have also sided with local residents in respective campaigns against buildings commissioned by the city administration.

And in a bid to decentralize political power in Russia's two largest cities, 15 district council members in Moscow and St. Petersburg appealed to the Constitutional Court on April 25, seeking to dissolve two government bodies controlled by citywide authorities and have their powers transferred to district councils.
Read the full story at RFE/RL.