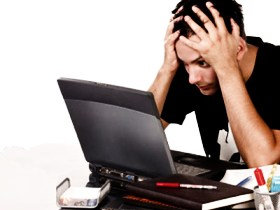 A Russian blogger has been fined for posting a picture online of Adolf Hitler and other Nazi leaders with the caption "MVD RF," the acronym for the Russian Foreign Ministry, Gazeta.ru reports.
A court in Saratov fined Aleksandr Strygin 500 rubles (~17 USD) for posting the picture five times on Facebook and LiveJournal, declaring him guilty of an administrative statute against "propaganda or public demonstration of Nazi symbols."
While the amount of the fine is not itself very damaging, Strygin worries that his planned electoral run for Saratov Regional Duma representative may now be in jeopardy. As an activist from the local branch of the unregistered oppositionist People's Freedom Party, the blogger said that the court's ruling might be used as an excuse to keep him from running for the post in the upcoming October election.
The case against Strygin was filed by the Saratov branch of the federal Center for Extremism Prevention, commonly known as Center "E." The center is notorious for persecuting opposition figures under the guise of fighting extremism.
Strygin noted that when it became clear he would be charged for the posts, he came to woe the fact these are the sort of "crimes" that Russian taxpayer money is spent to uncover.