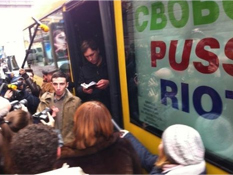 A bus excursion in support of arrested members of the Russian punk group Pussy Riot took place on Moscow's Garden Ring on Saturday despite initial police interference, Interfax reports.
Originally scheduled to set off at 1:00 pm, lawyer Violetta Volkova said that police confiscated the bus driver's documents and blocked the road with police cars, accusing the activists of holding an unsanctioned protest. Only late in the evening was the bus – whose riders insisted that they were holding an excursion, not a protest – allowed to proceed.
The bus, dubbed the Party Riot Bus, was decorated with drawings and posters in support of the all-female band. Participants included a variety of activists and journalists, including Pyotr Verzilov, husband of arrested group member Nadezhda Tolokonnikova and member of the anti-establishment art group Voina.
Three members of Pussy Riot were arrested after performing an anti-government prayer of sorts titled "Mother of God, Banish Putin" at the Cathedral of Christ the Savior in Moscow. According to Kasparov.ru, they face up to seven years in prison for "hooliganism." A Facebook page in defense of the women says that the three arrestees do not actually admit to being members of the group, who as a rule wear colored masks during all of their performances.