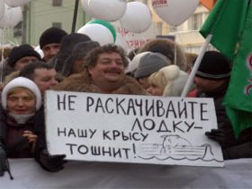 The leadership of United Russia is accusing opposition forces of "rocking the boat" ahead of Russia's March 4 presidential election with the aim of "justifying another fiasco," RIA Novosti reports.
According to the party, the country's opposition parties are "getting ahead of themselves" by holding protests against expected falsifications of the upcoming election.
Party secretary Sergei Neverov expressed certainty that both the non-systemic and systemic opposition "are looking to justify their fiascos ahead of time because they know that none of their candidates can present Vladimir Putin with any kind of real competition."
Neverov believes that the election results will be denounced by the opposition as falsified no matter what they are. In his opinion, oppositionists "don't need fair presidential elections; they're prepared to use any electoral campaign as a means to discredit the existing political system."
He also argued that opposition forces were "acting irresponsibly" and that they saw the fate of the country as "loose change."
The complaints come a week after State Duma deputies from United Russia asked deputies from the Communist Party, Liberal Democratic Party and A Just Russia to "make a joint anti-orange revolution" resolution in response to a wave of mass protests against blatant electoral fraud in December parliamentary elections. The three parties rejected the plea.