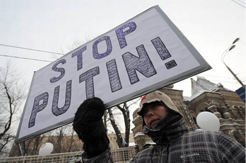 Organizers of an opposition march in Moscow that drew an estimated crowd of 100,000 people are being charged by the city for "violating the established protocols for organizing a march," Kasparov.ru reports.
One of the march organizers, Left Front leader Sergei Udaltsov, said that a meeting was held with police on February 10 to discuss allegations that the February 4 march began a half hour before its scheduled time and that participants were walking along the sidewalk instead of the actual road, where they were given permission to march.
Udaltsov and other opposition leaders insist that the march started on time at 1:00 pm, since this is when people began walking down the road. That some people were walking down the sidewalk a half hour earlier they say is irrelevant, since the sidewalk was not fenced off and hence not an actual part of the march route.
Moreover, the fact that police failed to file charges within the two-day time frame allowed by law – there was no written notification until February 8 – leads the organizers to doubt the legitimacy of the charges.
Their court date is set for February 13. If convicted, the organizers face a fine up to 2000 rubles (~66 USD).