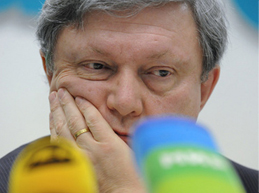 Members of the Yabloko party say they've already begun the process of filing suit against Russia's Central Electoral Commission after it turned down an application to allow one of their members to run for president, Interfax reports.
"We're currently formulating a suit in this regard," Grigory Yavlinsky told journalists on Friday.
Earlier in the day, Yavlinsky received an official notice from the commission (TsIK) that he would not be allowed to run as a presidential candidate in the upcoming March election.
According to the TsIK, about 25 percent of the signatures on Yavlinsky's petition had been falsified, well above the 5 percent permitted by Russian law. However, the party insists that the rejection was politically motivated.
On January 24, the newspaper Vedomosti reported that a source in the presidential administration said that Yavlinsky's rejection was a "surprise" to the Kremlin. In addition, an anonymous source in the TsIK said that the number of bad signatures collected by other presidential candidates was about the same as Yavlinsky's – this likely due to the difficulty of collecting 2 million signatures in the one-month time limit and the inability of candidates to oversee the work of all of their signature collectors.
According to political analyst Mikhail Tulsky, only 100,000 signatures were needed to run for president in 1991. In 1996 the number rose to 1 million, but candidates were given 3 months to collect them. It rose again to 2 million in 2004, with 7 percent falsified signatures allowed. Since 2007, that number dropped to 5 percent, and the length of time to collect them dropped to a month. Billionaire Mikhail Prokhorov, who has recently successfully completed the registration process, denounced it as "dishonest" and "degrading."