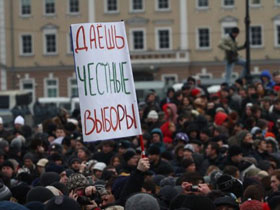 With less than two weeks remaining before a planned mass protest against electoral fraud, the Moscow mayor's office is still refusing to approve opposition leaders' proposed march route, Interfax reports.
According to Sergei Davidis, one of the organizers of the "For Fair Elections" march, a sticking point was that Deputy Mayor Aleksandr Gorbenko proposed a route that would keep the protesters outside of the Garden Ring, which encircles central Moscow. When Gorbenko rejected oppositionists' requests to allow the march to be held closer to the center of the city, the organizers apparently felt they had no other choice but to agree.
But even the status of that proposal – the city's own – was unclear.
"We were told that we'll get an official written response tomorrow per our request to hold the march from Luzhniki to Krimsky Bridge," said Davidis. "We'll have to wait and see what we're going to do after that."
Left Front coordinator Sergei Udaltsov also confirmed that organizers had no luck in reaching an agreement over the route with city authorities.
He stressed that the city had insisted that the oppositionists gather at Luzhniki since the very beginning of negotiations, and had refused to make any concessions.
"Organizers of the march and rally still intend to insist on holding the events in the center of the city," said Udaltsov.
The mayor's office first turned down the march's proposed route during a meeting on January 20, when Gorbenko claimed that it would be impossible "from the point of view of safety." However, the move followed a long tradition on the part of Moscow authorities of driving oppositionists to the less-visible outskirts of the city under the pretext of preventing traffic problems.
The February 4 march will be the third mass protest against falsified election results in the past two months. The demonstrations have been the largest Russia has seen since the fall of the Soviet Union, and so far more than 19 thousand people have pledged on Facebook to turn out for the next one.