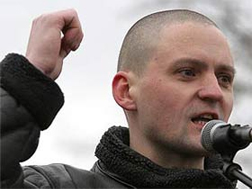 Moscow's Tverskoy Court has thrown out a complaint filed by persecuted Russian oppositionist Sergei Udaltsov, declaring his recent ten-day arrest for supposedly "disobeying police" to be legal, Interfax reports.
Because he was feeling ill, Udaltsov announced before the decision was read that he wouldn't be able to appear at Saturday's court session.
The court building itself was surrounded by approximately 20 journalists before the reading, and entrance was only granted to those with special permission.
Activists had gathered nearby and unfurled banners reading "Justice is higher to or equal to the law," which were removed by police.
Udaltsov was arrested and sentenced to time in jail repeatedly during the month of December. His health suffered significantly because of a hunger strike held during that time. He and his supporters maintain that the charges filed against him were politically motivated.