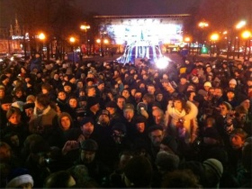 Russian police were largely hands-off in reacting to an unsanctioned rally in defense of jailed opposition leader Sergei Udaltsov in Moscow on Thursday, Kasparov.ru reports.
Since city authorities refused to grant organizers a permit to hold the rally, police cordoned off Moscow's Pushkin Square to prevent protesters from gathering. However, the approximately 1000 people who showed up in spite of the ban were allowed to enter the square after passing through a police inspection point.
After being denied their permit, rally organizers said they were reclassifying the rally as a public meeting with State Duma Deputy Ilya Ponomarev from the A Just Russia party, who is also a member of Udaltsov's Left Front movement. Speaking to the crowd, Ponomarev addressed the issue of political prisoners in Russia.
"Today in Russia there are around several thousand political prisoners. These people are persecuted under administrative and criminal charges, although it's obvious that the motives for the persecution are purely political," Ponomarev said.
He added that while prisoners such as Udaltsov and Mikhail Khodorkovsky are widely known, the vast majority of persecuted individuals receive little or no publicity.
While organizers asked ralliers to leave politically-charged posters at home to keep police interference at a minimum, a number of activists came armed with banners and prominently displayed them to the press. The police, however, did nothing in response.
Rallies in support of Udaltsov, who has been on a dry hunger strike for nearly a month, are being held all across Russia.
On December 25, Moscow's Tverskoy Regional Court sentenced Udaltsov to a third prison sentence of ten days, this time for disobeying police orders at a rally back in October. Earlier in the month he was convicted of "jaywalking."