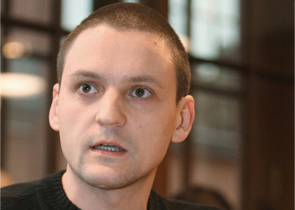 Sergei Udaltsov, one of the most quintessential and tireless figures of the Russian opposition, has been ill from a hunger strike in a Moscow jail for nearly a month. His supporters, who were denied a permit to rally in his support tomorrow, are adamant that the charges against him are fabricated and politically motivated. Concerned about his deteriorating condition, fellow opposition leader Garry Kasparov writes this address in his support.
Hold On, Sergei!
By Garry Kasparov
December 28, 2011
Kasparov.ru
In response to the demands of the rallies that took place on Sakharov Prospekt, the Russian government has decided not to mobilize the press services of the Kremlin or White House. Sergei Udaltsov's ten-day jail sentence on more fabricated charges for administrative legal violations speaks to the fact that the government does not plan to give in to the first demand of both rallies – to free political prisoners. The dishonorable Judge Borovkova, aptly referred to by someone in the courtroom as "Your Evilness," is using her ruling to try and to paint Sergei Udaltsov as a malicious hooligan who is constantly committing crimes.
In fact, in this situation the government is demonstrating the behavior of a street gang, accustomed to attack defenseless people in alleyways and then crawl away like a coward when someone strong, cool and collected shows up. In trying to hide its fear before the growing protest movement, the Putin camarilla is plotting a reprisal against the courageous oppositionist, languishing already for an entire month behind bars and now a de-facto hostage. The fight to free Sergei Udaltsov – which, considering the deteriorating condition of his health brought on by a lengthy dry hunger strike, is already becoming a fight for his life – is a test of the ability of Russian citizens to have their demands met while protesting authoritarian despotism.
The slogan "One for all and all for one," familiar to us since childhood, is often heard on Sakharov Prospekt and should serve as a rule for action today.
I would also like to address Sergei Udaltsov.
You've shown everyone – friends and foes – your unbending will and courage, so now your main task is to preserve your health and life. Never before has Russia's left movement needed a young, charismatic leader capable of replacing these self-important Communist Party elders, who have taken on the disgraceful role of the Kremlin's political indentured servant. So start eating again, Sergei, and next year we'll drink at the funeral of the Putin regime!