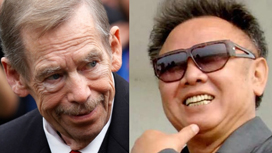 The Russian leadership is ignoring the death of Czech President Vaclav Havel but mourning that of North Korean dictator Kim Jong Il, Kasparov.ru reports.
While condolences have poured into the Czech Republic from dozens of world leaders, neither Russian President Dmitri Medvedev nor Prime Minister Vladimir Putin have extended any such sympathies.
On Sunday, US President Barak Obama praised Havel's role in helping create a united Europe. French President Nikolai Sarkozy said that "Europe has lost one of its wise men," and German Chancellor Angela Merkel said Havel's "dedication to freedom and democracy is as unforgotten as his great humanity."
December 19 was designated a national day of mourning in the Czech Republic.
President Havel passed away on December 18 following a long battle with respiratory illness. Known for leading Czechoslovakia's Velvet Revolution and helping democratize the former Soviet republic, he has criticized the Russian government as "a specific combination of old stereo types and a new business-mafia environment."
Commenting on the recent protests that have swept Russia following fraudulent elections on December 4, Havel opined in Novaya Gazeta that "There can be no talk of democracy as long as the leaders of the state insult the dignity of citizens, control the judiciary, the mass media and manipulate election results."
Meanwhile, President Medvedev did extend his sympathies on Monday to the North Korean people on the death of leader Kim Jong Il.
"Dmitry Medvedev sent his condolences to Kim Jong Un following the death of Chairman of the National Defence Commission of the Democratic People's Republic of Korea Kim Jong Il," read a press release on the Kremlin's website.