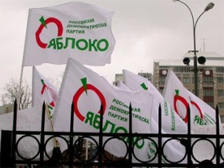 The first official complaints of violations during Russia's December 4 parliamentary elections have been filed in Moscow courts, Kasparov.ru reports.
In a press release issued Friday, the Yabloko party said that it had sent a packet of documents testifying about fraudulent results at eight areas in Moscow. "The data results issued by Yabloko's observers in these areas significantly differs from the official results," the statement asserted.
Party members noted that observers were included among the plaintiffs and that the complaints had been sent to seven different district courts. They plan to submit even more documents next week.
The lawsuits come following the largest protests Russia has seen since the fall of the Soviet Union. Despite widespread anger among Russian citizens at alleged blatant electoral fraud, Russian President Dmitri Medvedev has downplayed protesters' complaints.
On Thursday, the Federation Council dismissed a European Parliament resolution calling for a review of electoral results and for jailed oppositionists to be released as "legally untenable." The president made no comment, saying that the resolution "means nothing" to him.