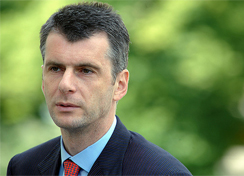 Last week, Russian billionaire-turned-flash-politician Mikhail Prokhorov caused a scandal by announcing that he was dropping his role as the head of the Kremlin-loyal Right Cause party – and leveling heavy criticism at Kremlin ideologue Vladimir Surkov in his wake.
Denouncing the party he head for all of three months as "a Kremlin puppet," Prokhorov complained that Surkov was the "puppeteer" who "long ago privatized the political system, who has been misinforming the country's leadership for a long time, who is putting pressure on the mass media and trying to manipulate the citizens." In this vein, he insisted, the Kremlin had orchestrated a plot to get the oligarch kicked out of the party.
Created in 2008 as a Kremlin-backed merger between the Union of Right Forces and two other parties, Right Cause has long been dismissed as a "marionette" that, despite its general loyalty to the center, garners almost no votes during elections. The introduction of Prokhorov as party leader gave rise to speculation that the billionaire's unlimited financial resources could raise the party's profile and give it a tint of legitimacy as an opposition movement. Unlike the vast majority of actual opposition parties, Right Cause has already been granted official registration by the Russian Justice Ministry, thus allowing it to field candidates for elections.
On Tuesday, reports surfaced that the Kremlin may have been motivated to shut Prokhorov out of Right Cause out of fear that he was truly stepping out of line. As the Moscow Times reports:
The real reason that the Kremlin sacrificed the Right Cause party was because its former billionaire leader Mikhail Prokhorov had wanted to organize Orange Revolution-style tent camps in a faux opposition drive to win seats in the State Duma elections, a senior party official said Tuesday.

Right Cause, a pro-business party whose popularity hovers around 2 percent, needed a massive injection of support to clear the 7 percent threshold in the December vote, so Prokhorov planned for followers to camp out in the streets in tents, like during the 2004 Ukrainian protests that eventually toppled the regime of President Leonid Kuchma, the official told The Moscow Times.

Another party official confirmed his remarks. They both spoke on condition of anonymity, citing fear of reprisal from the Kremlin.

But the idea could not have appealed to the Kremlin, which ardently opposed the Orange Revolution and spent years ensuring that no such public protests took place in Russia.

The Right Cause official said Surkov was pleased that Prokhorov left the party last Thursday, citing him as saying during a private conversation: "It was good that we got rid of him before he was elected to the Duma."

Surkov's office had no immediate comment about the claim Tuesday.