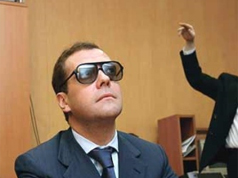 The majority of Russian citizens believe that Dmitri Medvedev has had neither any achievements nor failures during his presidency, according to a new poll out on Wednesday by the All-Russian Center for the Study of Public Opinion (VTsIOM).
Respondents had a variety of choices to define their opinion about the president's achievements, but the most popular among those turned out to be "hard to answer" (47%) and "there were no achievements" (23%). The number of people in the latter category has fallen by 7% in the past three years.
Additionally, the number of people who don't see any failures in Medvedev's presidency has fallen – from 90% in 2009 to 73% now.
As for the positives, 7% of respondents said that the president's social policies have been successful and another 6% said as much about his international policies. The rest of Medvedev's cornerstone turned out to be considered less fruitful – 3% each of respondents named the battle against corruption or reforms of the security services, and only 1% each mentioned the battles against crime and corruption or the firing of Moscow Mayor Yury Luzhkov.
As the newspaper Kommersant notes, only one out of every ten people polled by VTsIOM feels that Dmitri Medvedev, during his time in office, has "cared for the people" and asserted the idea of the revival of Russia as a global authority.
The poll was conducted from September 3-4 among 1600 people in 46 regions of Russia, with a margin of error no larger than 3.4%.