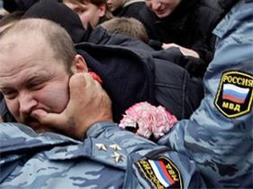 Russian police are being granted the right to use tear gas, tasers and water cannons to break up opposition rallies, RBK Daily reports.
The new regulations, laid out in a document governing the use of "non-lethal weapons" by the police, say that these and other "special measures" can be taken against oppositionists if they block automobile or pedestrian traffic.
Police will also be able to set dogs or use billy clubs on suspects of certain administrative crimes such as serving beer in undesignated areas or speeding, in addition to the aforementioned tear gas and tasers.
In the case that police are unable to detain a suspect, they will now be allowed to "flag him with a colored marking substance."
The 22nd article of Russia's federal law "On the Police" dictates that police have no right to use these deterrents "while suppressing unlawful meetings, rallies, demonstrations, marches or pickets that are peaceful in nature and do not disturb public order, transportation, communications or organizations." Ostensibly, the new regulations take advantage of the clause stipulating the violation of transport – a charge often leveled at rallying oppositionists who have attempted to get city authorities to close off roads for their pre-announced demonstrations.