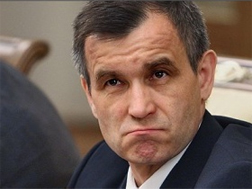 Russian Minister of Internal Affairs Rashid Nurgaliyev says he has purged corruption from the ranks of the country's police forces, Rosbalt reports.
"There, behind my back, in the past, remains bribery, abuse of authority, corruption and all that is negative – today there is none of that," he announced during a meeting with Kostroma city police.
A ministry-administered "reassessment" of Russia's police officers was carried out across the country on August 1, during which "issues of questionable declarations of income, real estate and financial transactions came to light," Nurgaliyev explained.
Of the more than 875 thousand officers who underwent the reassessment, about 183 thousand were fired.
According to the minister, "only the best of the best remain in the new structure."
Worth noting is that Vice Minister of Internal Affairs Sergei Gerasimov admitted on August 2 that there had been incidents of corruption during the reassessment procedures, albeit "minimal" ones.
The new federal law "On the Police," Which went into effect March 1, renames Russia's police forces from the "militsiya" to the "politsiya" and tightens control over how they operate. Part of the reforms involves cutting 22% of the force by 2012 down to 1,106,472.