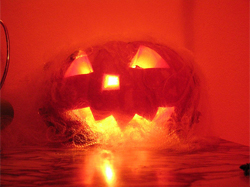 Officials in the Russian Republic of Karelia are trying to ban Halloween, Kasparov.ru reports.
A letter dated July 8, 2011 from the Karelian Ministry of Education, signed by Minister Irina Kuvshinova and sent to schools throughout the republic orders a thorough ban on any possible form of Halloween celebrations. The text of the letter, which is available online, was sent to Kasparov.ru on Wednesday by the Karelian branch of the Youth Human Rights Group.
Civil servants justified the move by demonizing Halloween as a pagan, non-Christian holiday that contradicts the "secularist character of education" and promotes "Satanism and extremism."
According to the Ministry of Education, "it is necessary to create new forms of joint school holidays that correspond with the basic values of Russian culture." Given that Halloween has its roots in ancient Irish and Scottish history, Minister Kuvshinova suggested that teachers limit themselves to providing students with factual descriptions of associated Gaelic holidays, such as Samhain and Beltine, when teaching the histories of those counties.
Kuvshinova also proposed teaching the "special role of Christianity in culture and traditions," citing examples such as Boxing Day in Great Britain, St. Patrick's Day in Ireland, and Christmas, Easter, and Thanksgiving in the United States [editor's note: Thanksgiving is not actually a Christian holiday].
The letter goes on to say that the issue of holding Halloween celebrations in schools is a matter under the jurisdiction of the Karelian Prosecutor's Office, and that school administrators must therefore send the Ministry of Education information confirming that the recommendations have been carried out by November 1, 2011.
In recent years, Russian officials have used wanton charges of "extremism" as an excuse to stifle oppositionist dissent, a trend that critics say abuses legislation that defines the term too broadly. Such charges have been filed against at least one poet, the families of victims in the Beslan school massacre, opposition leader Garry Kasparov, many newspapers, a television channel that airs South Park, and countless political oppositionists.
Also in the spirit of vague bans, Russian legislators attempted to outlaw the emo subculture in 2008.