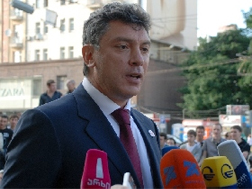 Prominent opposition politician Boris Nemtsov has been arrested twice this week in St. Petersburg while protesting Governor Valentina Matvienko, Kasparov.ru reports.
Executive Director Olga Kurnosova of the oppositionist United Civil Front said Nemtsov and seven other activists (including herself) were detained at an apartment complex in St. Petersburg's Petrovsky district on August 15 while distributing anti-Matvienko flyers and calling on residents to vote against the highly unpopular governor in her bid for a local council seat that would allow her to take up the position of Federation Council Speaker.
According to Kurnosova, members of a pro-Kremlin youth group, who were "coordinated" by an aide to powerful city legislator and United Russia party member Vyacheslav Makarov, attacked the oppositionists and pelted them with eggs.
When some of the oppositionists got into a car, "unknown young people" surrounded them, began throwing produce at their vehicle, and "acted aggressively in general." Police standing nearby did nothing in response to the situation, even helping the attackers.
"We tried to drive away but the police began to stop us and pull us out so that the Nashi members could throw stuff at us," Kurnosova explained. "At the same time, they didn't touch the attackers. The Nashi members broke our camera and tried to climb into the car and grab our flyers. The police didn't react at all."
The political news website ZakS.ru reported that pro-Kremlin activists threatened to slash the tires of one of their correspondents as well as of Representative Konstantin Yershov from the St. Petersburg branch of the People's Freedom Party (Parnas), which is co-led by Nemtsov.
On August 14, Nemtsov was also arrested under similar circumstances while canvassing against Matvienko in St. Petersburg's Krasnenkaya Rechka district.
Matvienko was nominated for the post of Federation Council Speaker by Russian President Dmitri Medvedev earlier this summer. In order for her to accept the post, she must be officially voted in as a representative of a particular region in Russia, which then in turn must vote for her as speaker.
According to Kasparov.ru, Matvienko plans to run on the United Russia party platform in Krasnenkaya Rechka and Petrovsky.
Representatives of the political opposition, who have been intent on providing Matvienko with some competition, have been unable to officially register as candidates. Therefore, the Solidarity opposition movement, also co-led by Nemtsov, and the Other Russia opposition party have begun campaigns calling on locals to vote against Matvienko and any other candidates associated with United Russia.