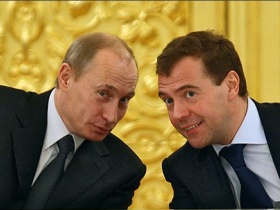 Russian sociologists have published the results of a new survey indicating that confidence in the president and prime minister are at their absolute lowest levels ever, Interfax reports.
The survey, carried out by the Public Opinion Foundation between July 23-24 in 204 places within 64 regions across Russia, shows that the level of confidence in President Dmitri Medvedev has dipped to 43 percent, as opposed to 49 percent when he was first elected in 2008.
Accordingly, the level of distrust in the president has risen from 14 percent in January 2011 to 23 percent today. Sociologists noted that, in the past, this figure has not risen past 15 percent.
Distrust in Prime Minister Vladimir Putin has also risen since the beginning of the year – from 13 to 21 percent. Confidence in Putin has fallen to 50 percent, also an all-time low.
Over the same period of time, according to the survey, the number of people prepared to participate in political protests in Russia has not risen.
The previous lowest ratings for Medvedev and Putin were both recorded in April, when confidence in the prime minister was at 53 percent and at 46 percent for the president.