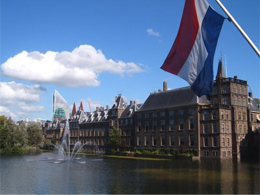 In a resolute 150-0 vote, lawmakers in the Netherlands have approved a measure to introduce visa and economic sanctions against a group of Russian civil servants connected to the scandalous death of Hermitage Capital Management lawyer Sergei Magnitsky in a Moscow detention facility in November 2009.
According to a press release sent by Hermitage Capital Management to TheOtherRussia.org on Monday, Dutch legislators made the decision while taking into account that "Sergei Magnitsky died while in detention in Russia under circumstances that give rise to suspicion, after he uncovered a massive corruption scheme, and also the fact that his case has exposed the deteriorating condition of the observance of human rights [in Russia], and acknowledging that, among a range of other measures, the US Senate and House of Representatives have taken initiatives connected with limiting the ability of Russian civil servants who have taken part in Magnitsky's death to enter the country and freezing their assets."
The representatives stressed that the situation was unacceptable and that Russian civil servants responsible for Magnitsky's death remain unpunished more than a year and a half after the fact.
According to Radio Free Europe/Radio Liberty, the Russian Foreign Ministry has denounced the Dutch sanctions as "unacceptable."
The Dutch vote follows a number of measures currently under consideration by US lawmakers to ban Russian civil servants connected with the case from the country. In April 2010, US Senator Benjamin Cardin sent a list of 60 people responsible for the lawyer's persecution and death to the US State Department.
This past June, Russian opposition leader Garry Kasparov presented US congressional leaders with a list of more than 300 Russian civil servants against whom he said the US should introduce visa sanctions on account of violations of Russia's obligations under international law to respect civil rights and freedoms.
Kasparov called upon the US to annul the antiquated Jackson-Vanik amendment and introduce in its stead specific visa sanctions against "those [civil servants] who violate democratic and human rights in Russia."
Russian lawmakers have threatened their Western counterparts with respective sanctions in the case that measures are taken against those involved in the Magnitsky case.