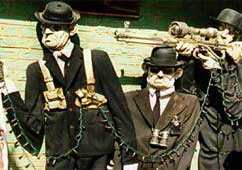 Yulia Latynina writes an insightful piece on the recent spate of espionage cases in Russia, wondering at the capability of a law enforcement agency that can readily expose presumed infiltrators, but can't even solve simple domestic crimes. The article originally appeared in the Yezhednevny Zhurnal online newspaper.
A Record Harvest of Spies
April 1, 2008
Yulia Latynina
Yezhednevny Zhurnal
The number of foreign spies and Islamic terrorists being caught by the [security] agencies is growing with terrifying speed. The FSB had just managed to reveal a spy, buried within TNK-BP, when the head of this service, Nikolai Patrushev, announced the suppression of Islamic aggression in the Urals: in the past few years, more than 80 members of radical Islamic organizations "Hizb ut-Takhrir" and the "Islamic Movement of Uzbekistan" have been revealed there. If we add in the foreign spies that [Alexander] Bastrykin, the head of the [Prosecutor General's] Investigative Committee, recognized in the midst of his own agency, and the Tajik national with the sniper rifle, who wanted to shoot [Vladimir] Putin and [Dmitri] Medvedev during their walk in the Vasilyevsky slope, then the March harvest was fantastic.
I do, however, have a few questions. The number of apprehended spies and terrorists is growing, yet the percentage of solved crimes perpetrated by skinheads is falling. This is very strange, since it is easy to catch the skinhead, who brags about his murders and generally kills without great qualifications, whereas the foreign spy, who has undergone training, is difficult to catch. And still, the spies are caught, and yet the murderers of Tajik nationals are not. All the more strange, since a murder committed for nationalist motives (not for robbery or domestic squabbles) – is also an act of terrorism. The amount of terrorist acts on Russia's soil grows exponentially, but the FSB doesn't just fail to solve these terrorist acts – it doesn't pay them any attention. Instead, it catches British spies.
And it is not only the victims of skinheads that are multiplying. The violence index is growing as a whole. Since 1996, it has doubled. Crimes aren't just unsolved, they aren't even reported.
When the Vice President of Vneshtorgbank is found with his hands bound in a run-down house, the investigation finds that this was a suicide. And when for some reason or another, a case is opened (or at least investigated), the investigative process leaves one completely astonished. Let's take, for example, the double murder of two Dagestani journalists – Ilyas Shurpaev, a correspondent for Channel One, in Moscow, and Gadzhi Abashilov, the head of the "Dagestan" state-owned media company, that same evening in Makhachkala. Shurpaev's killers were apprehended in Tajikistan, and it immediately became known, that one of then was already detained in the act of a robbery. And the detainee, a Tajik national (!) who was caught red-handed (!) after a robbery (! — pardon the exclamation points, but we somehow though that the militsiya didn't grant any rights to Tajik nationals) – was released for some unknown reason.
Abashilov's killer will probably not be found –the murder was meticulously planned, but here's what they discovered during the investigation. The car from which the killers fired had been stolen not four days before the murder, as was first reported, but ten years before. And when its owner had gone to the militsiya, he was told: "Why would you report the theft, there, take that one, we have another car in the yard, also stolen and nobody's, just change the plates and don't worry yourself." The owner took the other car, and drove it for ten years. And the other, stolen one, had driven another 140 thousand kilometers before it surfaced in the murder case.
You may ask: can't we take these people, who are so successfully battling the terrorists, and kick them over to those other crimes, whose numbers are growing? Alas, I have to disappoint you. Do you know who is battling terrorism in Dagestan? It's that same cop, who so successfully solved the problem of the stolen "Zhigulis" ten years ago.
Of course, one could assume, that the number of exposed spies is growing because foreign agencies are disquieted by the fact that Russia is rising from her knees.
But here's a question. There is this company – Guvnor. It, you could say, is the most strategic company in Russia. Earlier, the Arzamas-16 [nuclear weapons center] was strategic, and now Guvnor. All that is holy flows through this private company – government oil that once belonged to the private YUKOS and Sibneft companies. And yet this here company is registered in the West. How! Quick, move it to Ust-Uryupinsk, under the guard of Bastrykin and Patrushev, so that Western spies don't reach it!
Or there is this person – Gennady Timchenko. A friend of president Putin and an official co-owner of Guvnor. This is the carrier of our major secrets! What if Western spies kidnap him and force him to denigrate the Kremlin, showing that he, Timchenko, isn't any kind of owner, but simply a cover? Mister Timchenko needs to immediately go from him villa to some place where the spy-catchers can provide reliable protection. But Mr. Timchenko and those who stand with him aren't hurrying. For some reason, all these people are starting companies in that damned West, and fear the spies there less than their loyal [Russian] servants and protectors.
Up to 10% of students in English private schools are currently comprised of the Russian elite's children: not just businessmen, but civil servants too. Bureaucrats are buying homes in the West, castles and yachts; bureaucrats go there for vacation and leave their children there, and even our guarantor, as they say, is building a villa for himself in Europe, where he will relax from the presidency. And as for the herd, well the herd can go to lake Seliger and listen to the stories of how spies have been revealed in TNK-BP.