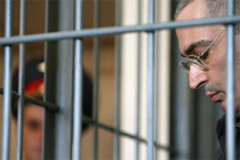 The human rights organization Amnesty International has declared jailed oligarch Mikhail Khodorkovsky and his former business partner Platon Lebedev to be prisoners of conscience, Kasparov.ru reports.
The announcement came the same day as a Moscow City Court ruling to uphold a December 2010 verdict that extended the pair's current prison sentences through 2017, reducing them slightly for a 2016 release. The case is recognized internationally as politically motivated, specifically at the behest of Russian Prime Minister Vladimir Putin.
"For several years now these two men have been trapped in a judicial vortex that answers to political not legal considerations," said a press release from Amnesty International on Tuesday. "Today's verdict makes it clear that Russia's lower courts are unable, or unwilling, to deliver justice in their cases."
Just last week, the organization said that Khodorkovsky and Lebedev could not be considered prisoners of conscience, telling Radio Free Liberty/Radio Europe that "a prisoner of conscience is a person who was sentenced for his or her views or beliefs," while "anyone who might be involved in wrongdoing or even crimes, but whose case was launched only for political reasons, can be called a political prisoner but not a prisoner of conscience."
However, Tuesday's statement indicates that the new verdict has definitively pushed Amnesty over the fence.
"The failure of the appeal court to address the fundamental flaws in the second trial and the fact that Mikhail Khodorkovsky and Platon Lebedev have already spent eight years in jail on barely distinguishable charges, points to the conclusion that their second convictions have been sought for political reasons relating purely to who they are," said Nicola Duckworth, director of Amnesty International's Europe and Central Asia Program.
Vadim Klyuvgant, a lawyer for the prisoners, said that "this is a somewhat belated statement of a perfectly obvious fact – about seven years so."
Harsh criticism of the upheld ruling has resounded throughout Europe and the United States. In a statement released on Tuesday, European Union Foreign Affairs Chief Catherine Ashton said she was "troubled by allegations of numerous violations in due process which reflect systemic problems within the Russian judiciary. The Khodorkovsky and Lebedev case has become emblematic for the lack of confidence in how the law is applied in Russia today."
European Parliament President Jerzy Buzek was also appalled at the behavior of the Russian judicial system. "This case was marred with alleged violations of due process and fair trial from the very start. It shows unfortunately that there is still a very long path for Russia to take to improve its rule of law and protection of human rights," he said.
Russia's Public Chamber and Ministry of International Affairs both criticized Amnesty International's about-face as "unexpected" and "one-sided and politicized," respectively.
On Wednesday, the European Court of Human Rights announced that their own ruling on a complaint filed by Khodorkovsky would be issued on May 31. A press release on the court's website outlined a list of the prisoner's complaints against the Russian government:
Relying on Article 3 (prohibition of inhuman and degrading treatment), Mr Khodorkovskiy complains in particular about the conditions in the remand prisons where he has been detained and in the courtroom during his trial. He also complains under Article 5 (right to liberty and security) about the unlawfulness of his arrest and subsequent detention pending investigation and trial, excessive length of the detention and unfairness of the detention proceedings. Lastly, he alleges that the criminal proceedings against him are politically motivated, in breach of Article 18 (limitation on use of restrictions on rights).