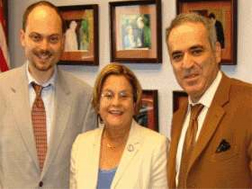 United Civil Front leader and Solidarity bureau member Garry Kasparov has asked United States Congressional leaders to introduce visa restrictions against corrupt Russian officials instead of sanctioning the entire country, Kasparov.ru reports.
"In place of sanctions against Russia – such as the Jackson-Vanik amendment – the United States should introduce personal sanctions against individual representatives of the regime who have violated the rights of Russian citizens," Kasparov said.
In addition to Kasparov, Thursday's meeting was attended by House Foreign Affairs Committee Chairwoman Ileana Ros-Lehtinen and House Subcommittee on Europe and Eurasia Chairman Dan Burton. Solidarity political council member Vladimir Kara-Murza, Jr. was also present.
Kasparov had previously discussed visa restrictions on Russian civil servants with US Senators John McCain and Joe Lieberman and Tom Lantos Human Rights Commission Co-Chairman James McGovern during a meeting in January 2011.
During a November 2010 visit to Washington, Solidarity bureau member Boris Nemtsov also called for the US Congress to ban Russian civil servants who took have violated international standards for democracy, legality and human rights from entering the United States. Immediately upon returning to Moscow, Nemtsov was assaulted by members of the radical pro-Kremlin youth group Nashi.